West Yorkshire Police Designing Out Crime Officers (DOCO's), liaise with the Local Authority Planning Officers, Architects, Developers and Agents to design out crime and reduce opportunities for crime and ASB (anti-social behaviour).
Our Design Out Crime Officers (DOCO's) in each of the five districts are embedded in their local authorities playing a major part in the future of community safety within the Force area. All our DOCO's are active members of the Security Institute which includes CPD (Continuous Professional Development)
They are.
There is national legislation and Local Authority policies which determine the outcomes of planning applications. An example would be Section 17 of the Crime and Disorder Act 1998. This legislation states that both the Police and the Local Authority have joint responsibility to do all they can to reduce crime and disorder and the fear of crime. The NPPF (National Planning Policy Framework) and other Local Plan and Supplementary Planning Document policies for each Local Planning Authority supports this guidance to help create safe and secure environments / developments where people want to live, work or visit.
The Planning officers in each District will consult with the local DOC officers re planning applications for new developments in the following categories.
---
Crime Risk Assessment Categories 
Threshold Requirements for Pre-application, Outline, Full and Reserved Matters planning applications for the following:  
Residential developments where 10 or more dwellings are created (including changes of use). 

All other developments including commercial where 1000 sq. m gross or more of floor space is proposed.  

All Cash Machines located outside a building or in a public space.  

All applications for new Hotels, Schools, Health Care facilities, Community Centres, Places of Worship and Day Nurseries over 150sq m.  

All applications for new or significant extensions to Recreation or Leisure facilities.  

All late-night Pubs / Bars / Nightclubs / Takeaways / Restaurants and areas of outdoor seating.

Car parks where more than 50 parking spaces are created.  

Development involving the creation of critical significant infrastructure e.g., Water, Gas, Electricity  

Transport infrastructure e.g., Tram / Bus / Coach / Train Stations. 

Homes with Multiple Occupancy (HMO's) and Children's Home facilities.

Changes of uses where there are existing problems and where the use or opening time could create more issues, shutters, late night economy uses which can impact an area.
The design and the layout of a built environment / development has an impact on crime and the fear of crime. The DOCO will use the principles of CTPED (Crime Prevention Through Environmental Design) which references the 5 points listed below. Including some of the onion peeling principle, external boundaries and working your way in, and provide written responses on the applications to either make recommendations to improve the design and layout and safety, or in some cases object if there are grounds to do this, which would impact on Police and partner services.
Consultation with the Counter Terrorism Security Advisors (CTSA's) from the NE Counter Terrorism Unit is carried out for Shopping Centres, Stadiums, Hotels, Critical Infrastructure, anything where there is the potential for crime and disorder and locations which are defined as 'Crowded Places' and fall into the Public Accessible Locations (PAL's) where there will be large crowds of people attending. 
---
Security Institute
The Security Institute are the UK's largest professional membership body for security professionals, with around 4,500 members to date. Since 2000 they have been working to promote the highest possible standards of integrity and professional competence in the business of security.
West Yorkshire Police DOCO's joined the Security Institute in 2022 as Members and are enroled on the recognised CPD programme. We have access to a network of Security Experts and Professionals within the security industry, giving DOCO's up to date information and learning.
---
Guidance notes 
 Planning applicants are requested to demonstrate that the development has been designed AND BUILT to minimise the risk of crime and maximise safety for the community. 
 Each Local Planning Authority expects all proposals to follow the FIVE evidence-based principles of Crime Prevention through Environmental Design (CPTED)1 & 2:  
 Any PHYSICAL security measures to be implemented shall seek to achieve the 'Secured by Design' accreditation as assessed by West Yorkshire Police3. 
 Applicants will be requested to submit a supplementary section within the Design and Access Statement entitled "Crime Risk Assessment". This section will include the above five CPTED principles and show the crime prevention measures proposed. 
Access and movement control

: Places with well-defined routes, which are overlooked and in safe locations, entrances that provide for convenient movement without compromising security.
Surveillance

: public spaces and footpath routes, parking areas are overlooked by the orientation of the building or by windows placed in active rooms (dwellings would be kitchen and living room), offices which are in frequent use.
Defensible space

: This can be fencing, gates which can control access to garden, drive or private area or location and either limit access or provide semi-private access. 
Physical security / Protection

: Places that included necessary well- designed security features, this can be a layout which can encourage a certain route to be used, it can be access control on an entrance door or gate to restrict entry or good security measures included within a build, such as door standards, and what security measures are included to reduce crime.
Management and Maintenance

: Places that are designed with management and maintenance in mind to discourage crime and ASB such as fly tipping /littering, play areas or green spaces are maintained.
Citations
Armitage R. (2013) Crime Prevention through Housing Design: Policy and Practice. Palgrave Macmillan: Crime Prevention and Security Management Book Series.  
Armitage, R. and Monchuk, L. (2018) What is CPTED? Reconnecting Theory with Application in the Words of Users and abusers. Policing A Journal of Policy and Practice. 
Armitage, R, and Monchuk, L (2011) Sustaining the Crime Reduction Impact of Secured by Design: 1999 to 2009. Security Journal, 24 (4), p. 320-343.
---
Planning Application Required Information   
The DOCO will request the following information from the planning applicants:
Site plan – the overall layout.

​​​​​Elevations of the buildings / dwellings

Floor plans – To enable us to the see the layout and windows in active rooms allowing site overlook.  

Boundary treatment plan – boundary treatments, heights and materials MUST be clearly shown on the plan and included within the Key.  

Design and Access statement – this MUST include the security measures which you are intending to put in place to reduce crime. For example, the type and security standards of Doors, Locking systems, Windows, Glazing, External lighting, types of Access Control systems, Intercom System, Burglar Alarms and CCTV. 

Details are required for the security of garages and sheds, which shall include

security details for Cycle and Motorcycle storage.  

Site Lighting plan, showing the type of external lighting, including where they are located and uniformity levels. 

This must include ANY un-adopted roads. Bollard lighting is NOT recommended for streets and roads as they do not enable facial recognition due to the light spill being at low level.

 

 

If there is any site CCTV, details to be provided.
Once we have received the application, we will acknowledge your email and examine the plans and provide written comments based on the CPTED principles.
Secured By Design (SBD) award.
If the Developer applies the recommended security measures, they have the option to apply for a Secured by Design (SBD) award. There is no cost for this scheme, the developer can apply to have their development marketed as either Gold, Silver, or Bronze development depending on the measures that are applied based as per the DOCO recommendations. This allows the development to be marketed as a Secured by Design development, which provides reassurance for any prospective buyers or housing developers that the security measures are to a high standard.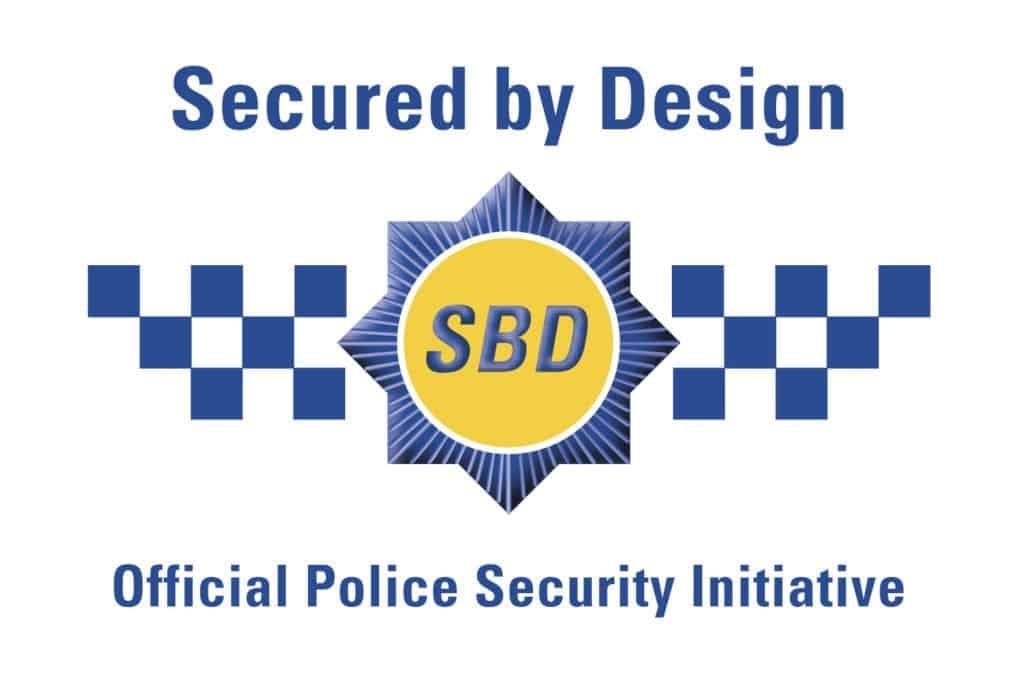 ---
Park Mark.
Park Mark is a crime prevention initiative scheme set up as part of Police - CPI (Crime Prevention Initiatives). The intention of the scheme is to reduce crime and the fear of crime.
Parking areas whether they be multi-storey car parks, outdoor car parks or business car parks can apply for the scheme. The car parks are reviewed every 12 months, where DOCO's will look at recorded crimes, visit the site with the Park Mark representative / Assessor. The lighting, CCTV and bay markings on the floor are clear and signage is displayed with routes showing payment points, exit areas are visible and that the area is clean and well maintained.
If the car parks are professionally managed and have low crime levels, they receive the award and can display the Park Mark signage within the car parks. If there are any car parks which suffer from high crime levels or ASB problems, they would need to demonstrate what measures the operators are taking to reduce crime. The DOCO would then look to review crimes and check for a continuous improvement, which works with the car parks to address the problems and creates a safer environment for motorists to park.  
For more information on the scheme please refer to the website link Park Mark 
British Parking Association - Representing organisations in the parking and traffic management industry
The direct point of contact is Ryan Davey,  [email protected]
The Secured by Design logo and title 'Police Preferred Specification' indicates that a company or a product meets the high standards set by Secured by Design. Usage of the logo is restricted exclusively to those products that have successfully tested to 'Secured by Design' requirements.
More like this on our website